Fox is a Chinese red fox who is respected warrior of the Valley, a beloved student of Panda, and the source of many crushes. She is the main and beautiful female character in Skunk Fu!. She is one of the most popular characters in the fan base.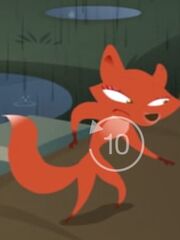 According the official site, Fox is the daughter of a male fox never mentioned in the series. Her father is said to have been the soul casualty of Dragon's rampage/war. Fox wants to be a great warrior like him in order to regain her family honor. She has lived most of her life as an orphan reared by Panda and Duck, which is why she is very sympathetic towards Skunk and treats him like a brother. She is roughly around 18 to 19 years old.
Fox is a very good-natured maternal character and one of Panda's greatest warriors. She is usually patient and wise, but she does have a strong tough side underneath her exterior which drives Rabbit wild leaving him madly in love. She is a very attractive person indeed and will usually use her looks to get the better of enemies like Baboon. She is a talented Fan-Fan warrior and has a very swift kung fu style able to defeat easily Skunk or Rabbit on sparring . This is much like the Korean art of Tai kwon do that consists of a lot of jumping and high kicks with the occasional punch. She also has a bit of a hot temper.
Relationships
Edit
Rabbit has a crush on Fox, though it is unknown if she returns these feelings for him. When the Ninja Monkeys steal a drawing from rabbits burrow that is a picture of fox which makes him the laughing stock of the monkeys. Fox doesn't know if rabbit drew it or not. According to the official Skunk Fu! website, Fox secretly likes him.
Baboon also has a crush on Fox, but she isn't interested in him at all. Some fans even dictate that Skunk likes her. But the official site says that he and her follow more or less of a brother to sister relationship. She probably likes Rabbit back as shown in the art of the crush where there relationship is mostly shown and in the art of lightning where she addresses him as handsome and kisses him.
Skunk-Fox usually gives Skunk advice whenever he has trouble with something. At the "the art of the crush" she taunts him a couple of times and kisses him. but on some episodes they worked together (and sometimes with someone else). Skunk views her as a sister figure. Like Rabbit, he secretly like her, though it is unknown if he happens to have an awkward feelings for her.